Brandon Christy aka TeamCatGuy in Twilight Movie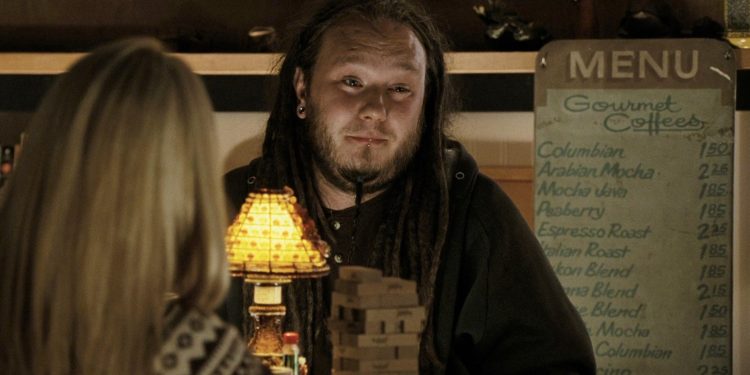 Have you ever wondered about some of the other cast members in the Twilight movies. Maybe the ones that pop up in the background or have a short appearance in the movies.  Brandon Christy is one of the those actors from the first Twilight movie. At the time of filming he lived here in the Portland, Oregon area and was casted for the restaurant scene with Bella and Edward. It was filmed in St. Helens, Oregon and the building has since then taken on several modifications. Brandon has a facebook page and Twilight fans are quickly finding him online. He also recently launched a Teamcatguy logo and website with his merchandise. I was able to ask him a few questions about the filming and his experience:
-How did you end up in the movie?  As an extra? 
I was in the local theater community in Portland and I got an agent from that and Twilight was the first film that I worked on.
–Did you have a specific part (cat guy) to play or were you just reacting?
The director added that part into the movie. I knew what was being said.
-How was your experience on set?
It was my first job so I was rather nervous but everyone was really nice and down to earth.
-Did you get a chance to talk/hang out with the actors?
It was a small call and I worked on the set 3 days. I got to hang out with everyone whom was in the scene.
–How has been the fan response to finding you?
The fan response has been amazing.  I had no idea that there were so many team Catguy family.
–Have you done any other film work?
Yes. I'm in a movie with Brenden Frazier and Harrison Ford called Extraordinary Measures, also a movie called In My Shoes. I am also in a few episodes of the tv shows Leverage and Grimm.
Brandon is now settled in Michigan with his family. He hopes to return to the Portland area and do some more acting.
You can reach his website teamcatguy.com
His new logo is really great as well.

Thank you to Brandon for sharing his Twilight experience.