ELIZABETH REASER FEATURED ON MAD MEN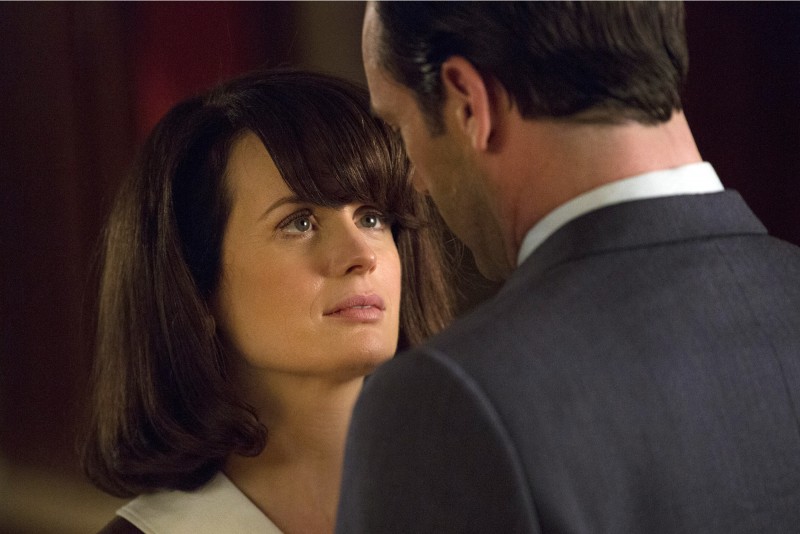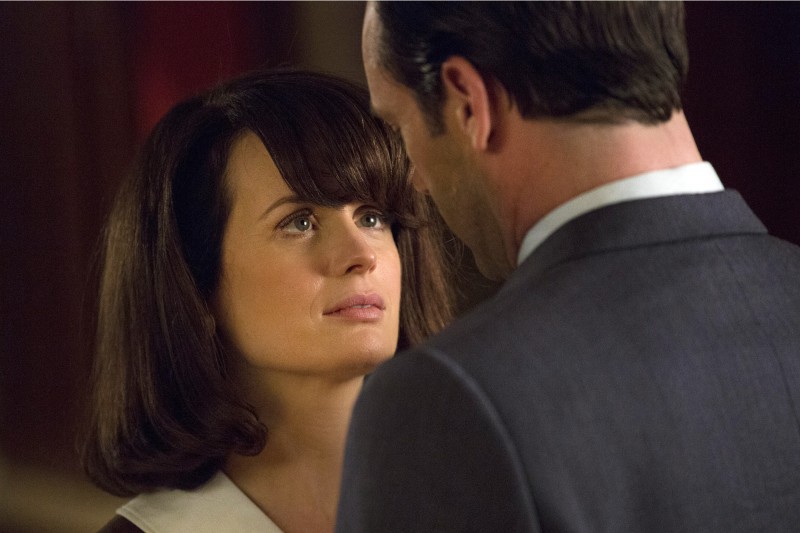 Elizabeth Reaser pops up on Mad Men when its getting right down to the finish. She plays a love interest to Don Draper and definitely holds her own. A far far turn from playing Esme in Twilights. She recently did an interview with the NY Post and here is some of what she has to say about her part.
She is Diana (Elizabeth Reaser), nicknamed Di, a hard-boiled diner waitress whom Roger Sterling (John Slattery) nicknames "Mildred Pierce," after the heroine of the James M. Cain novel and Joan Crawford film.
"Do I know you?" Don asks when she brings the check to a booth he is sharing with Roger and three women in the season premiere. He doesn't, but Don goes back to the diner alone, inexplicably drawn to this stranger who reminds him of someone he once knew, maybe an old lover.
He tests out that theory in the alley behind the diner, where he and Diana have stand-up sex among the garbage cans.
"The relationship moved so fast. The meeting. The alley. He wants to start anew," actress Reaser tells The Post of Don's date with destiny.
"He's in a deep crisis and he's beginning to process his life. When you fall in love with someone like [Diana], it seems like it could be the answer."
"Diana's invisible to people. Roger Sterling would never give her a second thought," adds Reaser, a huge fan of the show.
"This is a woman who lost a child and has left her life," Reaser says. "She's trying to make some sort of a life in New York. I take her at face value on that. She's abandoned her other child, which is the bigger tragedy. In [1970], it's so shocking."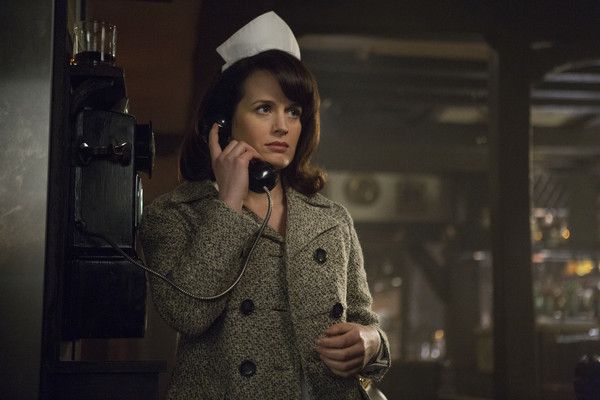 The actress notes that Diana's attitude about emotions echoes Don's, and was encouraged by creator Matthew Weiner. "He wanted me to be unsentimental and show a toughness. She's not indulgent," she says. "She's removed herself from life. She's also falling in love with Don. She doesn't want to at all. It's really confusing for her."
Some "Mad Men" fans have drawn parallels between Diana and Don: They're both from the Midwest and they both reinvented themselves, but Reaser thinks the connection runs even deeper. "The way she relates to Don reminds me of the way he relates to women," she says. "The heartbreak she carries around and how she manages it."
"Diana's got nothing left to lose. In some ways, she's a killer," says 39-year-old Reaser, who was born in Milford, Mich., grew up in the Detroit suburbs and is best known for her work in the "Twilight" film series and on "Grey's Anatomy," for which she won an Emmy. "She can take down Don Draper and not think twice about it. To play her, I had to convince myself that I could take down Don Draper. The character does not give a f - - k."
Reaser sympathizes but adds, "I get being a fan and wanting to see what you want to see. Matthew Weiner says the show is not about giving people what they want. He's just committed to the story he's telling. If he were to cater to all the things we want, then he wouldn't have an authentic story. I really trust him."
Reaser is prohibited from spilling any of the show's secrets, including how many of the remaining episodes she will appear in. Even her audition was top-secret, using a phony name for the male character she was playing against on the page.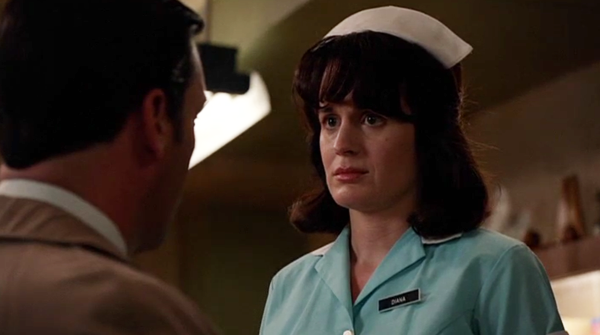 But she always knew it was Don.
"They didn't tell me anything about my character, but I could tell instinctively from the language where it was going. I didn't know it was Don Draper, but I could tell."
And when the show's over, fans can measure Diana against Don's other women, but Reaser thinks there's a reason why she came last.
"I always loved him with Betty. And I loved what Megan represented for him. How human that all feels. But I think he dominated a lot of these women. Diana sees through everything the way Don sees through everything. There's a nakedness to that kind of connection."
You can read the full interview on NY Post page.