GRIMM FILMING EP 19 MARCH 5 2015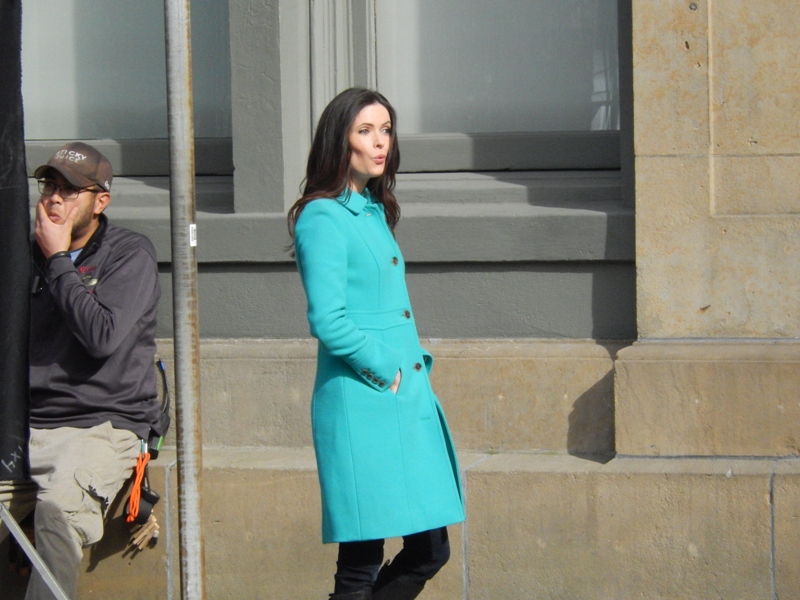 I heard of some GRIMM filming downtown today and went to check it out. It was downtown at Stark and Park streets in front of a building with Police Station on it. I am not sure if it was a real Police bldg. or not. There were several police cars parked out front. My guess is it was not. When I first arrived there were no trucks or equipment there at all. I walked around and came back half hour later and the trucks were unnloading equipment to set up. It really amazes me how quickly they can set up and be ready to go. The call time was 12:30 and they were ready to film by 1:30pm. The filming included Bitsie as Juliette and one other very tall guy actor. She came out of the police station and he stopped her on the street and talked to her. She then turned and left. Someone mentioned she was "out on bail", so not sure about that. At the end of their filming he yelled to her "Ill make sure you get an invite to the baby shower". I did videotape it but you could not hear them speaking.
It was interesting filming today with the roller track along the sidewalk with the camera rolling along it. They did this first across the street from the actors. Then the handi-cam guy went to work filming close up along with a regular camera on them too. They spent a lot of time doing the scene over and over with slight changes each time. Bitsie did walk right by me several times to the tent to sit down between takes. She wore a beautiful blue turqoise wool coat and black boots. They were heading back to the studio after todays scene. There were several extras on set as police people and then general people walking along the street. Season 4 Episode 19.
Lots more photos in the photo gallery.