PORTLAND WOMENS FILM FEST CATHERINE HARDWICKE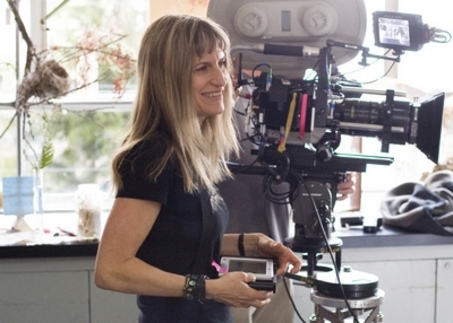 Twilight director Catherine Hardwicke is returning to Portland for the Portland Oregon Women's Film Festival on March 5 and 6, 2016. She will in Portland over the weekend to join in the festival with showings of her movies Miss You Already, 13 and of course TWILIGHT. More information follows:
PORTLAND OREGON WOMEN'S FILM FESTIVAL (POWFEST) ANNOUNCES
2016 WOMAN OF HONOR – TWILIGHT DIRECTOR CATHERINE HARDWICKE
Portland, Oregon – February 4, 2016 – The Portland Oregon Women's Film Festival (a.k.a. POWFest) is pleased to announce this year's guest of honor, award-winning director and gender equality advocate, Catherine Hardwicke, who will be in attendance throughout the festival taking place March 3 – 6, at The Hollywood Theatre.
Hardwicke's direction of the film adaptation of Stephenie Meyer's best-selling novel, Twilight, launched the worldwide blockbuster franchise, The Twilight Saga and earned nearly $400 million at the worldwide box office and made her made one of the most commercially successful women film directors. In addition to her impressive filmography, it has been her willingness to be vocal in the ACLU and Equal Opportunity Commission's investigation of gender bias and pay disparity in the entertainment industry of late that made her the standout woman to honor at this year's festival.
"Catherine Hardwicke's strong voice and willingness to step publicly into Hollywood's gender discussion is something to celebrate. Because of her, women are less fearful of being vocal as there has been a groundswell of support to amplify these voices. There is a revolution going on and she is one of the women in the lead." said POWFest Executive Director, Tara Johnson-Medinger.
With a theme of best friendship as in her most recent film Miss You Already starring Toni Colette and Drew Barrymore, and having tackled the challenges of adolescence as in Thirteen and Lords of Dogtown, Hardwicke is certain to foster a connection with the participants of the POWGirls workshop where girls ages 15-19 are mentored to realize their power, creativity and voice in media production. Hardwicke will also be in attendance for her screenings of Miss You Already (Sat. 3/5, 6 p.m.), Thirteen (Sat. 3/5, 9 p.m.) and Twilight (Sun. 3/6, Noon) with Director's Q&A,and she will host a Master class on Sunday, March 6th at The Hollywood Theatre at 10 a,m.
Now in its 9th consecutive year, POWFest continues to be the only film festival in Portland that exclusively places a spotlight on women directors with a goal to eliminate the gender disparity that exists for women working in the film industry. Dedicated to creating professional development and networking opportunities for women filmmakers of every discipline and skill level, each year, the festival seeks to actively represent the work of diverse women directors from around the globe while strengthening the community of women making films; encouraging the next generation of female filmmakers through its monthly programming and annual festival.
This year's lineup of 50 intelligent, inspiring and entertaining selections was curated from over 1,000 submissions with many of the directors in attendance. Some of the standout screenings include:
Armor of Light – A film that follows an Evangelical minister and the mother of a teenage shooting victim who ask, is it possible to be both pro-gun and pro-life? By Abigail Disney.
Sista in the Brotherhood – A short film about a young, black tradeswoman who must learn to prove herself on a new job site. By local filmmaker, Dawn Jones.
From Salem to the Salon, the story of how Portland-based salon owner Amber Starks changed Oregon state law. By local filmmaker, Christian Henry.
Tickets are $8-$15 individual screenings / $60 festival pass for premium access to all festival activities. Purchasing an all-access pass to POWFest gives you the opportunity to see as many films you want during the festival without fumbling with individual tickets while saving money and showing your support. Festival pass includes access for early seating and admission to our educational panels facilitated by Seed & Spark.
For a complete list of programming and schedule details, visit www.powfest.com
ABOUT POW FEST
The Portland Oregon Women's Film Festival (POWFest) empowers women to find their voice and share their stories through innovative and quality filmmaking by showcasing the work of today's top women directors at our annual festival and strengthening the community of women in film in Oregon year-round. We honor the true pioneers in the industry while providing support and recognition for the next generation of leading women filmmakers. In the past nine years POWFest has hosted the following prominent and very accomplished women directors: Allison Anders, Irene Taylor-Brodsky, Kathryn Bigelow, Gillian Armstrong, Amy Heckerling, Barbara Kopple, and Penelope Spheeris, Ondi Timoner and Joanna Priestley.
Tickets will be available Februrary 15 at this site.
POWFest is produced by Sour Apple Productions in partnership with The Hollywood Theatre