Robert Pattinson and Peter Facinelli Dashing in Blue
It was a blue night for the Cullen men with Robert Pattinson giving out an award at the Australians In Films night in L.A. and his Cullen "dad" attending the Armani One Night gala in NYC. RP was in a sapphire blue Gucci suit while Peter Facinelli was also decked out in blue for his night. Those Cullen men are just so dashing.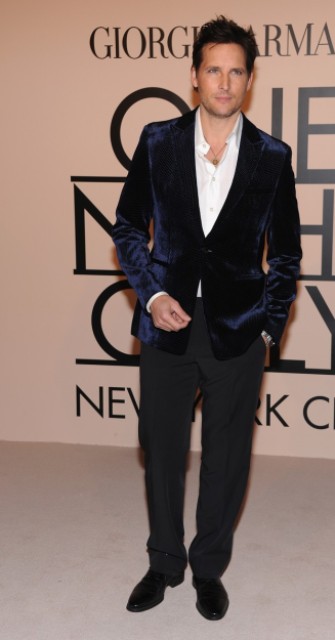 Vanity Fair had a chance for a quick interview with Peter.
Twilight's Cullen clan is a good-looking bunch, so it makes perfect sense that Peter Facinelli, who plays the vampire-family patriarch, started out as a model. "When I was young and good-looking, I modeled for a minute," Facinelli told us at Giorgio Armani's New York extravaganza on Thursday night. "I did some runway shows in New York City, when I was 19, to pay for college—I was going to N.Y.U. and studying acting at the time. I actually worked with Bruce Weber. He put me in a Versace campaign with Christy Turlington."
Facinelli isn't sure, but he thinks that the last time he met Armani was back then. "It was such a pleasure to see him again tonight, and be here and be a part of this," he said.