TAYLOR LAUTNER OPENS TRACERS THIS WEEK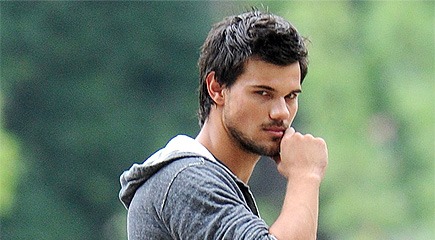 Taylor Lautner opens in his newest movie Tracers this week. I recently came across a great interview with Taylor talking about his career and of course his Twilight years.
Taylor Lautner finally emerges from the 'Twilight' zone
By Gregory E. MillerMarch 14, 2015 | 6:00am
At a distinct point in time, being a star of the "Twilight" franchise meant you were Hollywood royalty. But for Taylor Lautner, the end of the mania in 2012 meant taking a side step out of the spotlight. After the "Twilight" finale, the heartthrob seemed to disappear from screens. His only film role released since then has been a cameo in "Grown Ups 2."
"I definitely took a bit [of a breather]," he tells The Post. "It was nonstop for those four or five years [filming 'Twilight']."
Refreshed, Lautner's back with a new action flick, "Tracers," in theaters and on demand Friday. The film stars Lautner as a bike messenger who gets mixed up in a mysterious parkour crew that may not be the escape from his troubled life that he's hoping for. Lautner spent three months training to scale walls and leap from rooftops like an urban ninja. But the thing that earned him a scar on the side of his rib cage? A fence.
"There was a shot where I just jump over a fence, and I guess I didn't get quite high enough," he explains with a laugh.
Lautner's meteoric rise to fame was not so troubled. The 23-year-old Michigan native, who now lives in Los Angeles, hit the silver screen back in 2005 as a super-kid in "The Adventures of Sharkboy and Lavagirl in 3-D," which he followed up with "Cheaper by the Dozen 2."
In 2008, he became an instant tabloid fixture when the "Twilight" series began and his werewolf alter ego Jacob Black lit teen hearts ablaze.
For the next four years or so, his every word uttered, shirt removed or hand held was breathlessly followed. His all-star dating list, which included Taylor Swift and Selena Gomez, didn't help. (He's reportedly now seeing model Raina Lawson after calling it quits with his "Tracers" co-star Marie Avgeropoulos.)
All that obsession is why he still doesn't use social media, save for an infrequently updated Facebook page.
"I was able to avoid it," he says. "I mean, the three of us — Rob [Pattinson], Kristen [Stewart] and me — were, during the whole franchise. I think our privacy was taken away from us so quickly, and out of nowhere, that we were just taken aback and tightened the ropes, maybe even too much, at first."
Though he's grateful to the series and its fanatic supporters for the opportunities it's given him, Lautner has appreciated the recent lull in his career.
"It's definitely nice to be able to just go out to dinner, if you're with friends or on a date or whatever, and be able to just enjoy yourself," he says.
Still, he's found that dating rumors and fickle paparazzi can arrive at any minute.
"It comes and goes," he says. "There will be like a low where for a few months it's very quiet, and then just randomly it will pick up again. There's really no telling."
Regardless, he's now considering branching out with other social media, like Twitter or Instagram, which would align nicely with the growth of his career.
He's filmed an indie drama, "Run the Tide," which he calls his most challenging work ever. And he's currently shooting Adam Sandler's first Netflix movie, "The Ridiculous Six."
Now he's on the hunt for more roles that will stretch and challenge him. So no more werewolves?
"I think I should definitely take a little break," he says, laughing. "But I won't write it out of the future!"
Tracers opens this week.