TWILIGHT FILMING LOCATION Clackamas Film Stage (Inside Bellas Ballet Studio)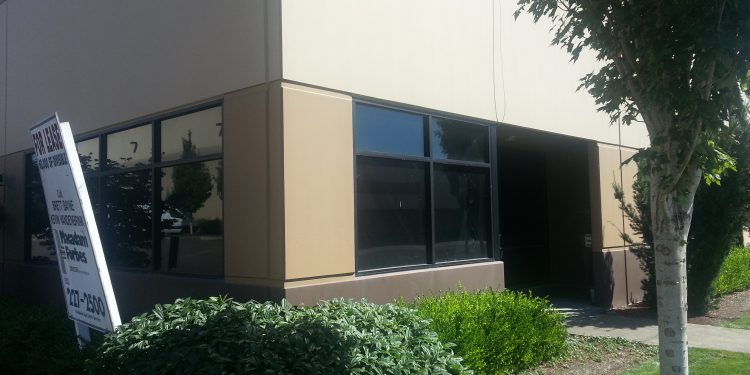 Clackamas Film/Sound stage Building
12482 SE Capps Road
Clackamas, Oregon
After re-reading my Twilight Complete Film Archive book I came across a copy of the Call Sheet for when they were filming here in Portland. It had an address on it for a filming location in Clackamas Oregon. It was for a place I had not heard of before.  But, I did know that the interior shooting and fight scene in Bella's Ballet Studio was done separately from The Yale Union Building and wondered if this was the place. I started searching online and came up with a business listed at the location in Clackamas. I then emailed to the company to see if they had any information about the Twilight filming in their building. Bingo. I heard back from a person there and he said YES they did use the building for filming. I had assumed that after the filming of Twilight in 2008 that the building was now being used by a different company. I knew that we could not take any pictures inside the building, but I still wanted some of the exterior of it.
I set off with my twi friend to visit the location. When we arrived I quickly saw that it was a huge warehouse surrounded by other buildings of similar size within a business park setting. We found the building with the correct address and parked in the front. We started taking some photos outside of the building. After a few minutes a girl came out and asked us to come inside. She was the receptionist. I told her what we were doing and she gave us some more information about the building and its owner. It turns out that the gentleman who owns the whole building uses half of it for his own business and the other half is used as a film/sound stage by production companys. That is how the Twilight movie was filmed there. She also told us that it is used by several other production groups for movies and tv shows including Grimm and Leverage.
As we drove away we noticed that there was a vacant office at the opposite end of the building. The windows were covered in black plastic. I assumed this was the film/sound stage area.I parked and went up to the door which was not covered. I was able to peer inside and saw several shelves full of props and other materials labeled with LEVERAGE. I became more interested and then spotted a parking sign with the name on it. I looked into the building and could see a huge warehouse space with cement floors and walls. There was a old style travel trailer and truck inside. Nothing else.
Now I knew that this place was also used for filming Leverage and Grimm. AND Twilight.  What a surprising Portland Twilight connection.