TWILIGHT MOVIE SHOWING AT MADISON HS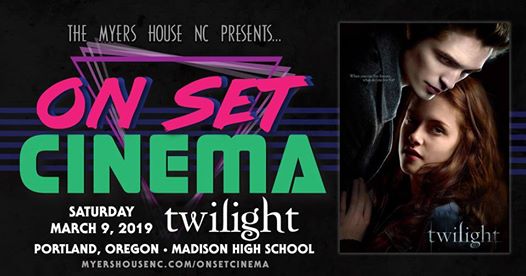 This movie event is currently sold out but more tickets may be released at later date. I will be doing a ticket giveaway starting January 2019!
This information is from The Myers House NC:
SATURDAY, MARCH 9, 2019: TWILIGHT * * * SOLD OUT! * * *
Portland, Oregon • Madison High School (aka Forks High School)
THIS SCREENING IS CURRENTLY SOLD OUT! Thank you so much to everyone who bought tickets!! I might add some additional tickets later on if I can. If you would like to be put on the wait list, feel free to send me an email – kennycaperton@gmail.com. Stay tuned for updates!
"Who is he?" "That's Edward Cullen. He's totally gorgeous, obviously, but apparently nobody here is good enough for him. Like I care, you know? So yeah, seriously, like, don't waste your time." "Wasn't planning on it"…
The Myers House NC presents a very special one night only ON SET CINEMA screening of Twilight! Join me on Saturday, March 9th, 2019 in Portland, Oregon at Madison High School …aka Forks High School from the movie! This is where the majority of the interiors of the school were filmed. I will be screening the movie inside the cafeteria where Bella (Kristen Stewart) sees Edward (Robert Pattinson) and the Cullens for the first time. Twilighters will have the opportunity to see the classroom where Edward not only realizes how much he thirsts for Bella's blood, but where Edward and Bella first get to know each other in science class. Fanpires will also be able to check out Bella's locker. This truly is a once in a lifetime opportunity to watch the movie in this location because unfortunately 3 months after this screening the school will be completely reconstructed and the locations as we know them will be gone forever. So hold on tight spider monkeys, we're going to Forks!
…"About 3 things I was absolutely positive. First, Edward was a vampire. Second, there was a part of him, and I didn't know how dominant that part might be, that thirsted for my blood. And third, I was unconditionally and irrevocably in love with him."
• Location: Madison High School – 2735 NE 82nd, Portland, OR 97220
• Time: 6:30pm-9:30pm (movie starts at 7:30pm)
• Admission: $10 per person (plus fees) *** PURCHASE TICKETS HERE *** (tickets will still be available at the door if event doesn't sell out. I will keep everyone posted about that)
• Facebook event page / IMDb / Movie trailer