Twilight "Under The Dome"
What a surprise to see these two Twilight actors once again working together. Rachelle Lefevre (Victoria) and Ned Bellamy (Waylon) are both starring in the new TV series Under The Dome. The last time we saw these two actors together was in Twilight on Waylon's boat. We later see Rachelle as Victoria on the Baseball field with James wearing some of Waylon's clothing. Waylon was never seen again in the Twilight Saga.
Under The Dome is a science fiction novel by Stephen King, published in November 2009.  Its is now on TV as a series on CBS Monday evenings. Rachelle can be followed on Twitter @RachelleLefevre.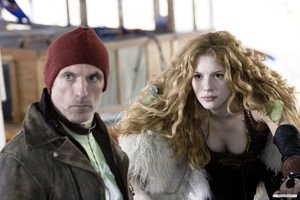 By the looks of this behind the scenes photo, maybe it is difficult to kick those old vampire habits…