DIOR HOMME ROB In El Pais Magazine (Spain)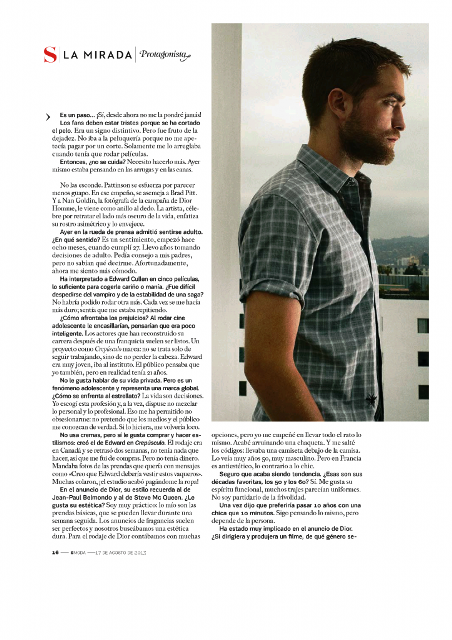 The actor and new face of Dior talks to S Moda exclusively. Here is some excerpts. More of the interview can be found at robertpattinsonlife.
One of your upcoming projects is 'Queen of the Dessert' by Werner Herzog. Are you only interested in auteur filmmaking? (Note: there is no proper translation for this question, by auteur filmmaking, it refers to films where the director plays a huge part in the writing process, normally his own scripts)
I want to work with geniuses. I'm trying to recreate my favorite film list from when I was seventeen. I met Werner, we talked, and two weeks later he offered me the role of Lawrence of Arabia. We start shooting at the end of this year.
You didn't have many releases in 2013. But its raining roles for you. For The Rover, a modern western, you spent two months in an Australian town covered in dust, sweating and surrounded by flies. It's not a very encouraging setting.
We shot in the dessert. My character breaks his teeth, bleeds, gets spread with mud. On set, nobody made an effort to look hot, just the opposite from Twilight. I'd never been in a film without my shirt on because I'm embarrassed, but in this one, I barely ever have it on.
That's a step…
Yeah! From now on, I'm never wearing one!
Fans must be sad now that you cut your hair.
It was a distinctive symbol. But it was because of laziness. I didn't go to the barber's because I didn't want to pay for a haircut. I just fixed it when I had to do a movie.
So, you don't take care of himself?
I need to do it more. Just yesterday I was thinking of wrinkles and grey hairs.
He doesn't hide them, Pattinson makes an effort to look less handsome. He's like Brad Pitt in that aspect. And for Nan Goldin, the photographer of the Dior Homme campaign, it's perfect. The artist, famous for photographing the dark sides of life, stresses his asymmetrical features and makes him look older.
You played Edward Cullen in five films, enough to feel affection. Was it hard saying goodbye to the vampire and the saga's stability?
I couldn't have filmed another one. It got harder each time and I felt like I was repeating myself.
In the Dior ad, your style reminds to those of Jean-Paul Belmondo's and Steve McQueen's. Do you like its aesthetics?
I'm very practical; I go for basic clothing, what you can wear for a straight week. Fragrance adverts tend to be perfect and we were looking for tough aesthetics. For the shooting, we had many options, but I was bent on wearing the same thing all the time. I ended up ruining a jacket. And I skipped codes: I was wearing a t-shirt beneath a shirt. I saw it as very 50's, very masculine. Yet, in France that's unsightly, the opposite of chic.
Surly it'll become a trend. Are those your favorite decades, the 50's and 60's?
Yeah. I really like their practical spirit. A lot of suits looked like uniforms. I'm not an advocate of triviality.
Once you said you'd rather spend 10 years with a girl rather than 10 minutes.
I still think the same, but it depends on the person.
So, are you nostalgic or pessimistic?
No. I re-read Dublineses by James Joyce the other day. I gave A Painful Case, my favorite story, to a friend. He said it was the most depressing thing he'd read in his life. I love it. There's something in those stories that allows me to connect with myself and that makes me happy.